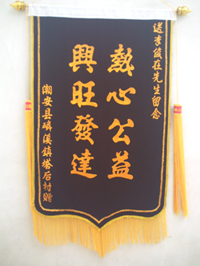 Chaozhou guangdong chaoan zhiheng chalk factory general manager in 33, start from scratch, hard-working good think, after 20 years of hard struggle, put a small factory, be a considerable size of the in south China chalk factory.
33 in career, from known as "China's paste, hubei YingChengShi began, and gradually down, until in chaozhou settled in, rain trudge, experienced acid bitter.
He go around the whole of China most of the provinces and cities, often door-to-door, a box of a box of selling chalk. He was a primary school principals four times out, still don't lose heart, the fifth open the door of the principal. The headmaster was his obsession and unyielding spirit to move, promised to try his chalk, use found very good, before deciding to buy. Later, the President was in his "the headmaster circle" to promote the "three A" clean chalk, become in 33 of "compulsory promoters".
Recall the past, vivid, as 33 in the motto: "looking back cliff body to leap, the mo forget hard heart be terrified". Although now he had no need to run about business, but he still has a lot of things to do.
33 are charging, wide learning expo, absorb useful ideas and methods; Once he recognized a thing, will continue to explore and conquer. Zhiheng chalk factory products don't copy, not fake, customer demand, all products are all system independent development. Like zhiheng chalk factory name "zhiheng", "a collection of wisdom decisive battle, the persistence begins with the first step", in the 33 "zhiheng" 2 words show incisively and vividly.
He said: development, reform, and innovation is the fundamental, the only way to transcend counterparts, is in an impregnable position. Under his leadership, zhiheng chalk factory will chalk process, transformed into automation, assembly line production mode for this traditional industry infused new strength. Zhiheng chalk factory is the first developed process chalk, creatively will chalk into various shapes of handicraft, has a strong appreciation.
33 in honest, treat people hospitable and natural, often said, "a gentleman's speak ren, small human trick, be an upright person to open and aboveboard, dignified and imposing, business to bang for the buck". With his cooperative dealer, highly to him, and his business "very worry, very comfortable".
In July 2008 day, two Congo · gold customers, almost at the same time came to zhiheng chalk factory purchase chalk. 33 in thought they were together, and then to know they are also be strangers to each other. In the competitive position, was strange scene atmosphere. In 33 with the enthusiasm of entertaining and witty conversation, to resolve the tension at that time, that they not only to become friends with each other, and in customs clearance in transportation cooperation, make the three parties reached three win, also aroused the china-africa friendship little waves.
33 in helpfulness, enthusiastic about public welfare undertaking, often to help those aged widows and widowers or adopt sponsorship school; Respect knowledge, respect talents, taking article as division, taking article as friend, not only the grasp of professional technology, and reading, love calligraphy, to try to make a good showing, proud; Read books, and do a long journey, every one place scenery scenic spots and historical sites, ChuJingShengQing, always a thought, leave a good memory.
There is a time to guilin tourism, 33 in guilin to yangshuo on the way, ligatures four poem, each finished writing a, guide the young lady all scrambled on the bus field recitation, a poem as card: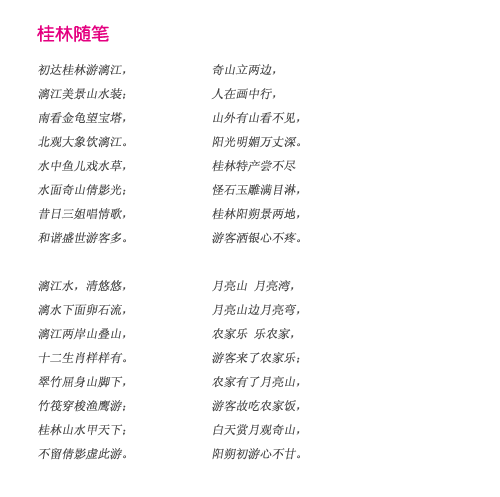 In 2008, when the eyes of the world focus on Beijing Olympic Games, 33 at the scene to watch the opening ceremony of the Olympic Games, surge of emotion surge, leaps to write down the sapphire case · jing is colourful world ":


A the Olympics unprecedented, the exult, a "sapphire case · jing is colourful world", put a and twists and turns, through all the peaks but still enthusiasm is bold and unrestrained, optimistic entrepreneurs image foil out.
33 in said, today's achievements, as the basis of tomorrow, never in yesterday's performance to sleep on, must like ice, repeatedly in the feeling of a cliff. People's ambition to lofty, don't be a little achievement and preen. One can start from scratch, but must not from without. Must not be conceited or rash, and be assiduous in things, let the cause of red flag would never fall. Must the hobby is widespread, not being a look like a businessman, but others think is a noble man.